5 Tech Accessories for the On-The-Go Contracting Employee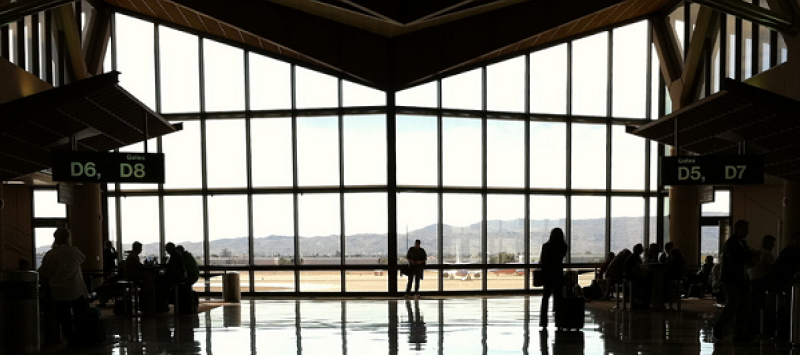 Whether by car, train, bus, or even plane most of us spend countless hours each week commuting.
Regardless of your attitude towards your to-and-from work, we can all agree that the act of traveling can be tiresome. Similarly, throw in deadlines, missed flights, and construction delays and stress can all but consume your commute. While some commute-related worries are unavoidable, they can be tolerable with the help of technology. Check out the following five affordable and convenient contracting tech accessories for when you are on-the-go and need life to work with you, or more specifically, for you.
Audible
$14.95/month
So often while commuting, we find our thoughts wandering. One minute we are worrying about a work proposal and the next we're stressing about when to finish that pesky load of laundry – either way, letting your mind fixate on your to-do can be far from productive. Why not spend your transit time accomplishing something? Possibly use your bus ride to better yourself? How about dedicate your drive to discovery? In other words, use your down time to listen to an audiobook.
You may be thinking "Audiobook- you mean the multiple CD set of romance novels my aunt use to take on road trips?" Well yes and no, you might be interested in learning that audiobooks have gained immense popularity in recent years and the stigma behind listening to books is long gone. In fact, while print and digital books sales have fallen by billions of dollars since 2011, in 2015 alone, audiobook downloads increased by 38.1%. Audible, an audiobook application and subscription service, allows you to ditch the bulk and inconvenience of toting around a paperback and utilizes your phone, an item we know is always with you, to unlock more than 180,000 performed titles. From New York Times' Bestsellers to the classics, with an Audible subscription you have access to a plethora of genres, podcasts, and lectures and one free audiobook a month. The possibilities for what, when, and where to listen are endless.
Not a reader? No Problem. Instead try this productivity playlist - its backed by science.
3M Privacy Screen Protector
Price varies depending on intended electronics
Whether you commute via public transit or work remotely in a teeming café, chances are another person's screen has temporarily sidetracked you. While it is usually nothing but a game of candy crush or the newest fad video, for those who find themselves working in a crowded setting, especially with sensitive information, prevention of peeping passersby is a must. The 3M Privacy Screen Protector does just that. Available for most smartphones, tablets, and computer monitors, this screen shield prevents anyone outside the user's view from seeing your display. Those looking on from the side will simply see a black screen, while you, with direct sight lines, have unfettered access to your entire screen. Find yourself working with others? No Problem, in the event of screen sharing it is easy to remove and reapply with minimal effort on your part. It is the ultimate blockade for wandering eyes.
Anker PowerCore+20100mAh
Retails at $119.99
Between meetings, during a presentation, or even to and from work, when the need to charge a device arises it is reassuring to have power in your back pocket. This power bank is superior because it features not just two USB ports but a USB-C port. This particular model is relatively small, while still allowing you to change numerous devices. For example, let's compare it to some popular smartphones needs: the Galaxy 7 Edge requires 3,600 mAh to reach its full charge, whereas the iPhone 6s Plus needs 2,750 mAh, and finally the MacBook Pro 15" requires a whopping 5,500 mAh to reach 100%.
With the Anker PowerCore, you could fully charge all three of these gadgets and still have charge to spare. There isn't always an opportunity pause and fully charge your devices when on the move, make sure that when the chance arise you don't have to skip a beat.
EC Technology Portable Bluetooth Wireless Keyboard
$42.99
If you rely on a plane, train, or automobile to get to work, you understand that packing light is essential. It's a rule many business professionals have come to live by, going as far as to ditch their laptop for work on-the-go in favor of lightweight tablets and even smartphones. In fact, an International Data Corporation survey found that 40% of business travelers prefer tablets as their primary work device. All well and good, I enjoy a tablet as much as the next person. That is until you have to type anything longer than an email; then tablet work can take a turn towards the troublesome.
The simple solution- a folding Bluetooth-enabled keyboard ready to accompany you, and your tablet, wherever your travels take you. When packed away for traveling, this EC Wireless Bluetooth keyboard is approximately the size of an iPhone 6 and unfolds into a full keyboard equipped with no-slide rubber grips. Whether you will be using this as a dedicated work keyboard or just an additional tech tool, this tablet accessory is the perfect blend of practicality and usability.
Cocoon Grid-it Go Pack
$59.99
Find yourself consistently digging around in your bag for your work ID badge or that pesky pair of headphones? Let's be honest, keeping the bags we carry every day organized can be difficult. That why the Grid-it Go Pack comes in handy. With four different sizes and a crisscrossing stretch bands pattern, the Cocoon Grid-it stand heads above other organizers. Whether you are out of living out a suitcase or just accustom to carrying a briefcase, organizing your items on the Grid-It allows you to quickly grab what you need without scattering the contents of your bag.  With this on-the-go organizer, you can feel secure that your headphones and plans will not unravel, due do a disordered work bag.